My art and my motives part II
Conclusion to My art and my motives part I
prologue
Apart from my art, I play bass  and do back up vocals in a pop punk band called Harmful if Swallowed, over the years of playing in my band, I have come to realize and appreciate the differences between the music world and the art world, one of the biggest differences being that there seems to be more opportunity for growth and sales as a visual artist then as a musician.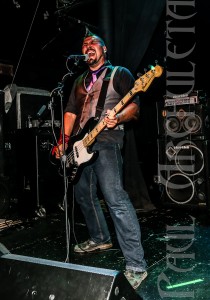 Photo: Paul Archuleta
For example, just Google "Artist Call" and page after page after page of artist submission invitations pop up, then Google "Music Call"… nothing appears. Perhaps it's because there are more musicians in LA than artists? Who knows… but one thing is for sure, as an artist, your art speaks for itself, as a musician, your music does not.  An artist is chosen for an art show based on his/ her art not how many people will pay to come see their art, whereas for a band or a musician,  selling tickets  to prove how many people you can bring into a club on a tuesday evening at 8, 9 or 10 pm is most often the determining factor. That being said, both musicians and artists must work their asses off to create opportunities, each must be it's own marketer, promoter, agent, manager and booker.This blog entry is about my continuing journey as a DIY artist.
Part III
Stalking the Cemetery
Every year, there is a huge festival that takes place at the Hollywood Forever cemetery, where many of the silver screen's biggest stars have been laid to rest. This cemetery is one of the more progressive ones in Los Angeles as they open their doors to music concerts, festivals and outdoor film screenings, thereby making a strong connection with the community. Ever since I learned about it, I had been interested in being part of the Day of the Dead celebration at the Hollywood Forever cemetery, the problem was that my art repertoire was lacking, I had never before done an actual series of any kind. My art up untill 2010 was alot of different  pieces and styles because I was an illustrator for hire, never having had developed my artistic voice. But after doing "Monsters Skulls and Pin ups" in Silverlake, "Painted Rituals" in New York and a year long exhibit at Yxta in Downtown LA, I felt that I was prepared to show along side other artists in a Day of the Dead festival. Early in 2011, I cold called the main offices of Hollywood Forever and after a series of calls and emails, i went in and showed 4 of my pieces to some of the organizers of the event. They put me in touch with "Art", the coordinator of the art show in the Cemetery. After a review, my art was chosen to be part of the art show in the masouleum purely based on the content of the art pieces. needless to say, I was overwelmed with delight! The Hollywood Forever Day of the Dead Celebration boasts an attendance of 10,000 – 20,000 people in one day!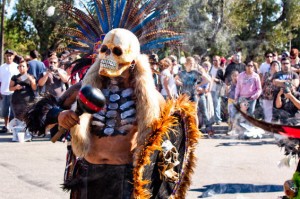 Photo: Nanette Gonzalez/ LA Weekly
It was the first time that i had done anything of this caliber, I was nervous but not scared, fully welcoming this opportunity because deep down inside, I knew that i was at the right place at the right time and that doors would soon open for me. The night of the event was a blur, I gave out at least 2000 of my business cards, shook hundreds of hands, posed for countless pictures and talked about my art with passers by for 10 hours sraight. At the end of the night, after the public had gone, all artists took down their art. Unable to park in the cemetery, I made several trips to and from the masoleum carrying a stack of paintings at a time, I didn't even notice the effort that I was exherting doing this because I was still in a blissful fog over how the great the night was! I had such a great feeling of accomplishment, like I put an idea out into the universe and the universe in return manifested it for me. I have been learning that more and more now. when you have a goal and start putting it into action, the universe does the rest and eventually it manifests into a reality! As much as I loved being a part of the art show, I will most likely be a part of it  in a different respect this next year, i'll come back to that in a moment
Part IV
Sweet Aftermath
Several days later, I began to call some of the people that gave me their cards at the event.  one of the cards was from Tienda De Reyes, an amazing shop in Old Town San Diego. I called them and spoke with one of the owners and was invited to do a live painting and sell my prints at the shop. Since then, Amazing things have happened. I have done several live paintings there and have become a regular fixture in their annual Day of the Dead celebration as a face painter, having participated now in two consecutive festivals.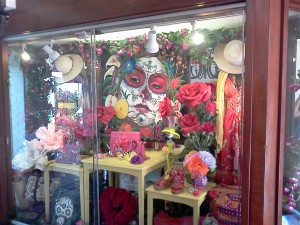 "Tina" in the Tienda De Reyes Storefront window
This last one, I had to bring a fellow artist, Alexandra Kube to help out, we had a three hour long wait list of people that wanted their faces paitned! It really has been an amazing experience working with the flolks at Tienda de Reyes and I look forward to working with them for a long time to come!
Another card was from the Forgotten Goddess, a website devoted to the empowerment of women and all things Goddess. I called the creator, Russelle and after a talk, she expressed her interest in showcasing my Day of the Dead ladies in her website and she invited me to be a part of an all woman group show! I was honored and humbled by this. we began work together to put on a show and recently co-curated a first ever "Hollywood Forever pre-party" in Beverly Hills which will hopefully turn into a yearly thing!
I was surprised a few days after my first Day of the Dead festival at the cemetery when I recieved a link to an LA Weekly photo slide show, It was of the event. I began to scroll through the pictures and there I was! Standing next to one of my pieces in the mausoleum!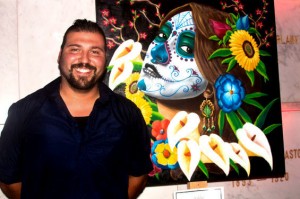 The photo journalist, Nanaette Gonzales had come by that night and taken pics for LA Weekly and took a liking to my stuff. since then, we have been in touch and she even covered the Hollywood Forever Pre-party that I co-curated in 2012 at CUSH salon in Beverly Hills.
Part V
Transition
I had reached one of my goals, to be part of a "Major" art exhibit. I felt empowered so I began to actively seek out opportunities online, bookmarking the website for the California Arts Council and checking it bi-weekly for artist calls. I realized that I was beginning to set short tem goals for myself,  was actively putting myself out there. My attitude was "No art show was to big, too small, too close or to far." Even when I was part of a Downtown rooftop art show where the ONLY people there were the hosts AND the artists, I wasn't able to sell any art but I did network with a few other artists and I was able to complete a painting! So that was the silver lining to that show, plus I had an amazing view of Downtown! not all shows were like this, in facet I had an amazing experience showing along side Alex Kube and Charles pickering at the Animators Guild in North Hollywood.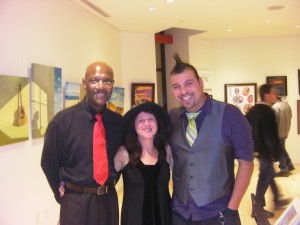 Charles Pickering, Alex Kube and I
due to a last minute change that resulted in the opportunity to be a part of it. I had enough art to fill a whole wall and sold 3 pieces and several prints!
Researching artist calls have helped me submit my art to shows as well as to find artists to participate in shows that I have put together. One Artist call that I replied to led to my art being featured in a juried Watercolor show in Palo Alto CA at the Pacific Arts League, This was my first ever juried art show and I created a new watercolor piece called "Illumination" for the submission process, I was so excited to be chosen to be a part of this show!.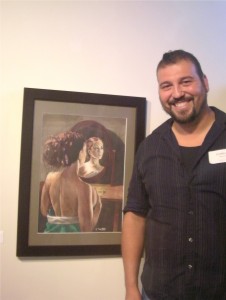 @ the "Pacific Arts League" in Palo Alto
I rented a car and drove up, stayed in a friend's RV the first night, washed up at a local Starbucks restroom the next morning and stayed the rest of the weekend at another friends home who most graciously put me up 

Another search led me to submit my art to and be accepted into a Day of the Deat art show at the Pico house on Olvera Street called Sacred memories. After that show, I had even more interest in my art, in fact Gina, a local business owner on Olvera street invited me to begin selling my art at her shop!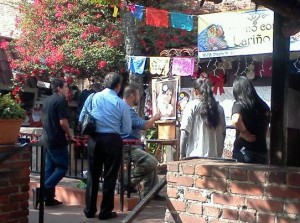 Live painting on Olvera Street Plaza
I went there on a Sunday to do a live painting to intruduce myself to the community and it was a magical experience! I am planning on being there to do Dia De los Muertos face painting on Cinco de Mayo and I will be having an exhibit there soon! Details up soon…
Back to the cemetery- When I met the curator for the Hollywood Forever art exhibit, it was a huge honor! Art is a hard working artist/ promotor and he has steadily been building his clientel list over the years, he has put together successful shows at Mercado La Paloma, Hollywood Forever and even Home Depot Center! Working with him has helped me to branch out as an artist to the point where I am planning bigger and better things for myself. So This year I am planning on participating at the Hollywood forever Day of the Dead fesival as a Vendor, Allowing me to better control what I display and how I sell my art!
Much like the cemetery, early this year in January, I set my sights on the Ink-N-Iron festival, a huge 3 day tattoo and music festival. I cold called them and began planning how I would become a vendor there, it is slowly becoming a reality! (I will dedicate a blog to that process) This year promises to be better than last year in regards to my  career as an artist. I have plans for a solo show in NY in September 2013, my art will be displayed at a show in Cathederal City in October, I will begin working with Stay Gallery in Downey, I am becoming a regular at the Bacon Social art show both with my art and with my band, I am working with Gallery Sev Ven in Huntington Beach on doing more shows there. Once the ball starts rolling, momentum takes over and you hang on for the fun ride! The more that I meet other artists, gallery owners, shop owners and public, the more I realize that I am in the perfect place in my life as an artist! The sky really is the limit!